Four Bands, Three Strings and Choir!
Pikes Peak Home School Music (PPHSM), which was founded by Bill Callen in 2000, is under the direction of Band & Choir Instructor, Cecilia Martin and String Instructor, Rebekah Emery. It has grown immensely since, and is the only home-school musical program of its kind in Colorado. The PPHSM allows students ages 9 through high school to hone their choice of musical instrument or singing ability, in a non-competitive, classroom-like setting. Ms. Martin provides instruction for bands for beginners, intermediate students and two bands for advanced students. Ms. Emery provides instruction to students new to learning their string instruments, as well as those students at the intermediate and advanced level. As of 2022, the Pikes Peak Home School musical program initiated a choir program, which is also under the direction of Ms. Martin
Pikes Peak Home School Music fills a void in the curriculum and in the activities of home-schooled children. Students have the opportunity to learn and play their musical instruments and practice their vocal talents in an educational environment with their peers. It is noteworthy that these students receive more individualized instruction and personal attention than they would in a school setting.
We encourage parents to participate in these programs, either playing the instrument they played in junior high/high school/college or learning a new instrument along with their child. This is a very unique opportunity not offered anywhere else.
We have four bands and two string classes grouped according to experience and ability:
Beginning band – Students who have had little or no experience playing a band instrument.
Intermediate band – Students who have had at least one year experience playing their instrument.
Advanced 2 band – Students who have had at least two years of experience and students who are learning a second instrument.
Advanced 1 band – The most advanced students.
All instruments are taught, and most students play in multiple bands on different instruments, which is a luxury most music programs do not allow. We encourage students who are proficient on one instrument to learn a second instrument and play both in separate bands. Several students have taken advantage of this in the past and continue to do so.
There is also an Orchestra and Rebekah Emery is the instructor for these three levels of experience:
Advanced Strings – Students with at least two years of experience.
Beginner Strings – Students who have had little to no experience playing a string instrument.
Intermediate Strings – Students who have had at least one year's experience playing their instrument.
2022 marked the inauguration of the choir program. The choir is for students of all ability levels, including those with no previous experience. While it currently has only one class, the eventual goal is to grow the program so we can have multiple levels of classes, just like we have in our band and string programs. Ms. Martin instructs this program.
The musical ensembles rehearse for 45 minutes (30 minutes for choir) on both Monday and Wednesday afternoons at Friendship Assembly of God Church, located at 3685 New Center Point, Colorado Springs, CO.
Advanced Band 2 in Rehearsal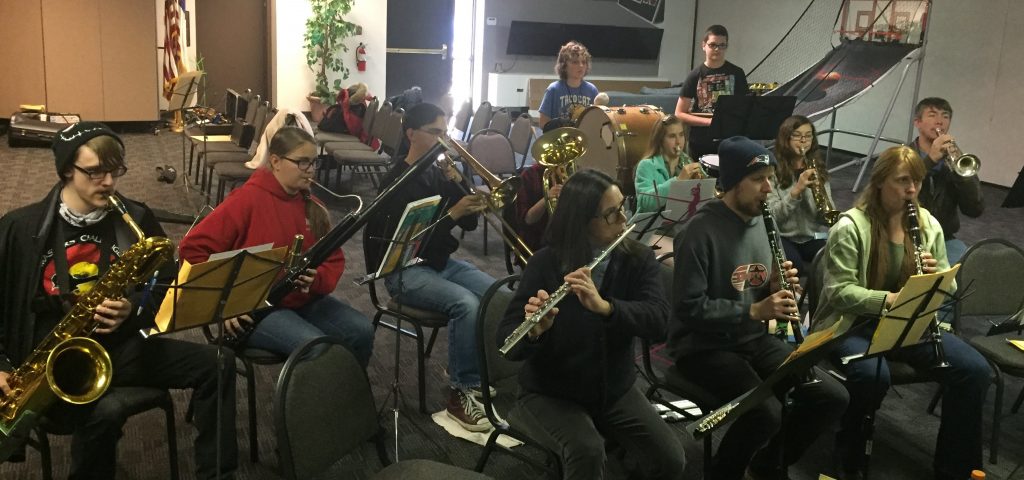 Beginning Band in Rehearsal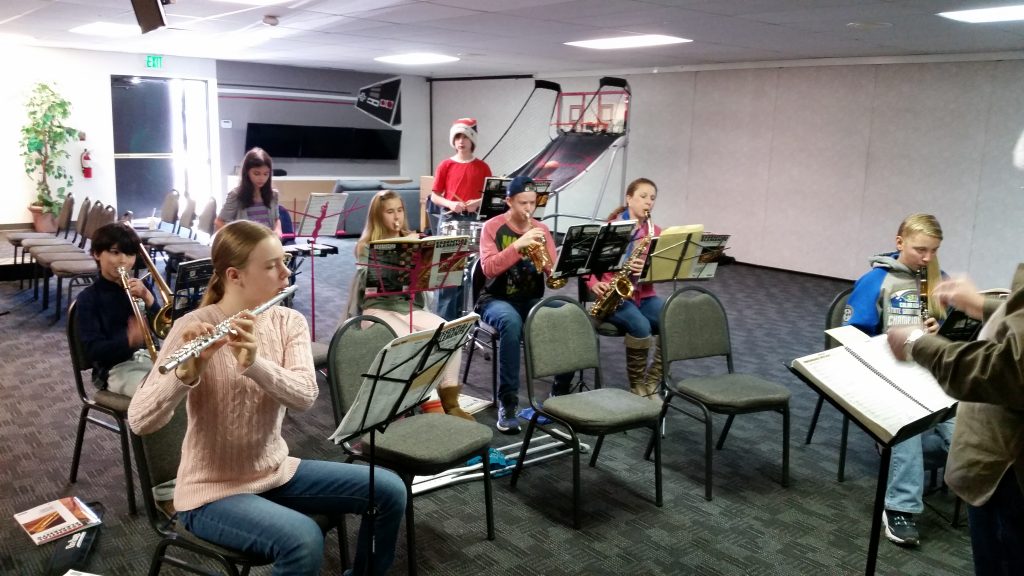 Strings Rehearse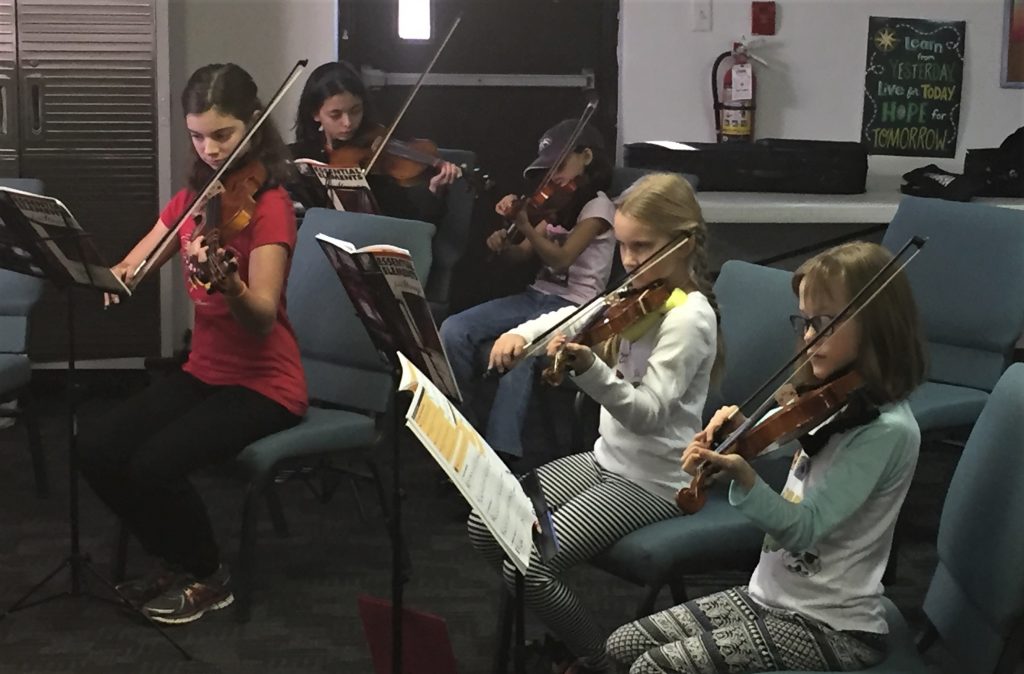 Intermediate String Classes in Rehearsal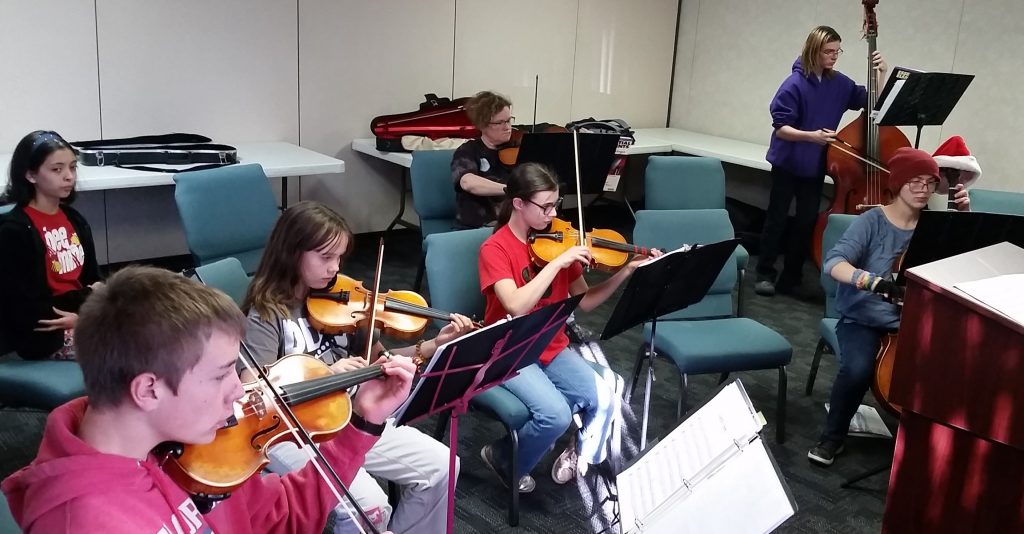 personalized instruction
Ms. Cecilia Martin instructs students on the following band instruments:
Flute, Oboe, Bassoon, Clarinet, Saxophone, Trumpet, French Horn, Trombone, Euphonium, Tuba and Percussion.
Rebekah Emery teaches her students in the following string instruments:
Violin, Viola, Cello and String Bass
State renowned
The Pikes Peak Home School Band has been a multi-year participant in, Denver, Colorado's "Home School Day at the Capitol". This yearly event, which is provide by provided by Christian Home Educators of Colorado (CHEC), is meant to show people the importance of a home school education in today's world.